Reviews
AMAZON REVIEWS FOR THREE OF CUPS


This is the most amazing book!
" Most honest women will tell you that the females that they surround themselves with are their lifeline and this book is a brilliant testimony of that. So beautifully written with characters that not only jump off the page but give the reader something about each of them to not only identify with but wish you were there with them. It was so heart felt and genuine and I loved the time frame that the author choose to write about. I felt a real connection to the events that unfolded and could barely put it down. I can't recommend this book enough! ."


Another winner from Kathy Wilson Florence!
" I fell quickly into the lives of Rachel, Mandy, and Ginger as we time-traveled back and forth between the Vietnam era and the end of the twentieth century in short, page-turning chapters. I easily devoured the book in a two-day span. Three of Cups features fully-dimensional and historically-accurate details about time, place, and people; a riveting story line about three intermingled women and the men they love; and distinct, colorful supporting characters that make you want to spend more time with a grandparent or befriend your wacky neighbor. ."


What a wonderful story!
" I just finished reading Three of Cups and thoroughly enjoyed it. It's extremely well-written and is an easy read, a carefully crafted story that keeps you turning the pages. It's a testament to the power of female bonding, how people can touch and change our lives, and how friendships can remain strong and nurturing no matter how much time passes. I have to confess to needing more than one tissue toward the end of this wonderful book. ."


I loved this book!!
" This is a must read!! Three of Cups and Jaybird's Song are both very well written - GREAT job Kathy! I will definitely be a follower of all her future writings!! ."


The most important thing to know is the value of friends and family when there is a crisis in your life.
" Kathy Wilson Florence has written a book you can't put down. A story of love and heartbreak - of grief, human mistakes and surprises and the value of female friendship. You will find yourself wanting to jump into the friendship circle of these three very different women, and you just might want to visit.....someone who can read tarot cards! A terrific book for the beach or vacation destination. ."


Loved this
" The interwoven stories were intriguing and the characters so likeable. The three of cups aspect was clever. I started reading it and couldn't put it down. I really enjoyed it. ."


A sweet story about the value of friendships - and more.
" On the surface, this is a lighthearted story about friendships - but on a more serious level it's a story about how secrets and misunderstandings can almost derail a life. Set in Atlanta, it makes anyone who knows Atlanta feel it's their story too. Told from shifting points of view in shifting periods of time, it's a book for readers who like a little challenge. ."


Heartwarming!
" What a charming, delightful and beautiful story of three women and their intertwined lives. Just when you think you've got things figured out ... you don't! The characters are deep and multi-dimensional and this author makes you want to be in their circle. Sometimes I would think I'm like Ginger, other times more like Mandy then later convinced I'm a Rachel persona. The author uses strong, rich supporting characters to add layers of spice and humor along with historical events and landscape that bring it all together. I enjoyed it thoroughly and recommend it highly. Read it for yourself - and send copies to celebrate the friendships in your life! ."


Brilliant Storytelling!
" Once again, brilliant storytelling by Kathy Florence! I was immersed in the dual timeline and found myself chuckling at the familiar products and scenarios her characters used and went through. KF has a keen sense for detail, which I totally appreciate! I LOVED the mustache foreshadowing (read the book for more - no spoilers!) and the strong bond of female friendships & family through the years this book spanned. I was a little worried toward the end wondering how she was going to make things right - I even flipped back pages to try and figure things out hoping I hadn't missed a key scene so I would stop worrying for these characters I had grown close to! Leave it to Kathy to take you on a path of suspense and then surprise you! The accurate details of KF's stories never cease to amaze me, and the ending was more than satisfactory. Another 5-star read I highly recommend! ."
---
AMAZON REVIEWS FOR JAYBIRD'S SONG


By Carol C Gaultney on February 13, 2017
"Jaybird's Song is a great Southern novel that will grab your attention from the beginning of the story. It is one of those books that makes you want hide from your routine just to have more time to devote to the story. It is a story of strong women, close family and tribulations. Hoping that there is a sequel or another novel soon from Kathy Wilson Florence.."


By Amazon Customer on February 17, 2017
"Absolutely loved Jaybird's Song!! It's a wonderful story told through a character that you'll fall in love with from page one. It's the perfect mix of southern charm and heartbreaking tragedy – 10/10!!!!!!."


By P. Baker on February 19, 2017
"I loved this book so much from the moment I started it that I cleared my schedule as much as I could and devoured it in 24 hours. A stunningly thoughtful sense of place and time permeated this story, and I loved and welcomed equally the chapters from the past and the ones from the present. A true Southern story, rich in character, relationships, and secrets, Jaybird's Song not only made me understand my adopted home, Atlanta, more (especially during times of great discord in our nation's history), but it also tickled alive my memories from 900 miles away where I grew up as a northerner (the Ouija board! the Dippety Do! the weird things that happen to girls-on-the-cusp-of-womanhood that they never tell anyone), making the themes of this coming-of-age/coming-to-terms masterpiece universal. Although this book is easy and quick to read, it carries profoundly deep and powerful messages about women's ability to rise above tragedies with grace and humor, and perhaps makes us all want to be a bit more like the centerpiece of the story, Annie Jo. Kathy Wilson Florence writes with such simple beauty that I found myself suddenly filled with tears on a public train about the narrator, Josie's, painful predicament. I see a movie deal here!."


By Morgan on February 19, 2017
"I LOVED this book, couldn't put this "easy to read" novel down. I felt like I grew up with Josie and really related to her adult life as well.
Great book to curl up with on a snowy day or relaxing day at the beach.."


By Lynne Byrd on February 21, 2017
""Jaybird's Song" puts you right in the middle of a large loving family in the South, headed up by Annie Jo, their creative grandmother. You will be right there in the middle of all the sibling rivalries, the wonderful summer vacations, first love, and rites of passage! The voice of Josie (Who is nicknamed "Jaybird" by her adored Father, is clear and descriptive! You will experience desegregation of Josiej's school, and you will want Annie Jo for yourself. Be sure and save a whole day to read this fascinating novel with more than one surprise! This book will be a part of my permanent library!."


By Eleanor Pippin on February 22, 2017
"Josie, nicknamed Jaybird by her father, is approaching her 50th birthday, and her beloved grandmother Annie Jo is dying. The combination of those landmark life events causes her to reflect on her growing up years in 1960's Atlanta. The tumultuous civil rights era and the untimely death of her father both shaped who she is. As she works to resolve open issues from her adolescence, the reader is treated to a delicious view of what it was like to grow up southern. Warm, nostalgic and sometimes funny, altogether a really good read.."


By Kathy M. Penn on February 22, 2017
"You don't have to be a child of the sixties nor a Southerner to appreciate this story with its interesting twists and its descriptions of the events that defined a generation. For gals who grew up in the sixties, though, this book is a must read. Atlantans will get a kick out of the references to Stone Mountain, Lenox Mall and more. Flashback Alert: Every page brings back memories, some that will make you smile; others that may make you squirm. Who doesn't have a few embarrassing high school memories? Get your copy now.."


By Martha A Brideau on February 25, 2017
"Jaybird is a story that grabs you - in a pleasant way. A great book to snuggle up on your coziest chair with a your favorite beverage and enjoy.."
---
AMAZON REVIEWS FOR YOU'VE GOT A WEDGIE CHA CHA CHA


By P. Baker on April 21, 2016
"I love this writer. I read her column for years in the newspaper and was very excited to see she released this book. I read it in one two-hour sitting and laughed out loud so many times (specifically about the sea monkeys, and the padlock on her sister's glasses). She showcases the depth of meaning in the simplest things in life, plus honors every member of her family (parents, daughters, husband, extended family of relatives, and even the cat!) while doing so. Plus, thank you for the memories, especially about that rubber belt thing with the metal clasp for holding school books (I LOVED that thing), grocery bag book covers, metal over-the-shoe roller-skates, and that machine that made the bugs (the version my brother and I had was called Creepy Crawlers). This is such a lovely, lovely book. Thank you so much for taking the time to share your stories with us."


By Eleanor Pippin on May 1, 2016
"A wonderful set of snapshots from the life of a modern multi-tasking mother, daughter, career woman, and friend. Each story describes an everyday situation like a we all experience, but with witty and imaginative perspective. A delightful read."


By Amazon Customer on June 6, 2016
"A delightful read - I laughed and cried throughout. Kathy has a real gift for storytelling and I highly recommend her book. I'm already looking forward to her next wedgie, err book. :)"


By Amazon Customer on June 12, 2016
"Loved, loved, loved it! Keep up the great work!"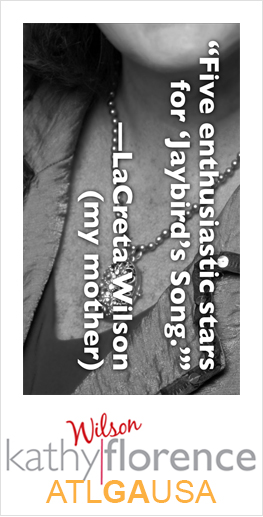 2019 Author Events
February 1
Emerging Authors
Foxtail Bookstore
March 1
Georgia Center for the Book, Decatur, GA
Panel Discussion, 7:15 pm
January 17
Canton Book Club: Jaybird's Song
January 8
Presentation: Three of Cups
A Novel Idea, Dunwoody
Crema Espresso Café, 6:30 pm

2018 Author Events
December 5
Book Sales
Holiday Pop Up Shop at Dunwoody Library, 4-7 pm
November 30
Discussion of "Three of Cup" 11 am
The Doug Dahlgren Radio Show
http://www.artistfirst.com/dahlgren.htm

November 24
Book signing, 11 am-2 pm
The Southern Pen Bookshop, Monroe, GA.
November 10
Milton Literary Festival
Panel Discussion: The Power of Three
November 2
Birthday Club Bbook discussion: Three of Cups
September 19
Presentation: Three of Cups
A Novel Idea, Canton
September 18
Sandy Springs Book Club: Three of Cups
August 21
Woodlands Book Club: Three of Cups
July 11
Shenandoah Estates Book Club: Jaybird's Song
July 1
"Three of Cups" release
September 19
A Novel Idea - Canton, GA
A reading from "Jaybird's Song"
June 7
Dunwoody North Book Club: Jaybird's Song
April 12
Author Lunch/Presentation: Jaybird's Song
Deaton Creek, Hoschton, GA
January 3-7
Around the Writer's Table
Writer's Retreat, St. Simon's Island, FL
---
Media Kit
Coming Soon